IT Technician intel-based servers and storage
Nieuw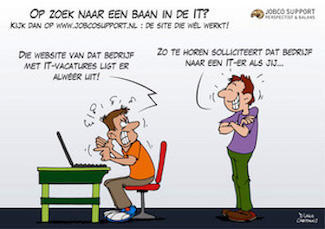 For a company at Nijmegen we are looking for a passionate IT technician who is specialized in Intel-based servers and storage.
Being a teamplayer, loving to share knowledge and being excited about continuous learning are essential traits. If you are looking for a challenging yet rewarding position with opportunities to continuously learn and improve, keep reeding.
Your responsibilities:
Troubleshooting and fixing servers (expert level), storage (expert level) and networking (advanced level),
Testing and building servers,
Contributing to the improvement of our technical team.
Your day in the office:
Most days will be spent in the technical center, but you may be sent to clients' sites in the Netherlands or abroad on occasions.
Typically your days would be spent:
Building and testing servers (installing OS etc.),
Handling troubleshooting requests,
Sharing your knowledge with other technicians,
Extending your technical knowledge bases on the needs of the sales team,
Communicating with the sales reps regarding troubleshooting cases,
Sharing ideas to help us improve.
What they are after:
You speak English and Dutch,
You have at 5+ years of experience. Certificates are a plus but not mandatory,
Education HBO ICT grade or equivalent,
You're genuinely about IT, you're more likely to read a Dell PowerEdge R630 owner's manual than watch Netfliex,
You have an analytical mind and a natural instinct for finding solutions,
You love sharing your knowledge,
Your are a true team player,
Your enjoy learning and you're a fast-learner,
You love tinkering with machines and don't mind doing some lifting,
You enjoy good food with multi-cultural people.
An independent IT hardware and services reseller and headquarted in Nijmegen. They buy and sell IT equipment and IT services (B2B only). They operate in more than 80 countries and have offices in 5 countries.
They are always on the lookout for new opportunities and hiring great talent is always the occasion to introduce some fresh perpective on their business.
What you get:
Training by manufacturers when needed,
Challenging responsibilities with different brands of hardware,
Competitive employment conditions,
International feel in a multi-cultural team,
Opportunity to participate in an amazing adventure that starts now and hopefully never ends.
An interesting job for you? Please send your cv and motivation to us and we will come back to you.
Nijmegen
13.08.2019
Jobco Support gebruikt cookies om bepaalde voorkeuren te onthouden en vacatures af te stemmen op je interesses.